Falling Brook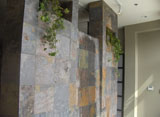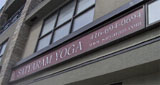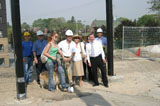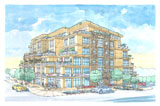 Casual Elegance in the Beach
The Beach has long been a sought after high value enclave of tranquility within the bustle of the City. At the quiet end of the Beach is Falling Brook, located on a rise of land commanding views of the lake to the south and parkland to the north, your answer to casual living in the Beach. Just steps away from the Boardwalk, parks, shopping streets, with excellent neighbourhood schools, well served by public transit, Falling Brook is the loft residence of choice for those who know the Beach.
Falling Brook's 43 terraced loft units cascade north and south to take full advantage of site topography and lake and park views. Paying homage to Frank Lloyd Wright's famous Falling Water residence, with natural rock facing, strong horizontal design elements, landscaping integrated with built form and extensive use of glass, Prairie School merges with the West Coast Style to create an architectural statement uniquely suited to the Beach.
All of the loft residences of Falling Brook feature expansive light filled volumes of space, with 10 foot ceiling heights on either one or two levels; and with upper level mezzanines overlooking 21 foot high atriums. All units walk out to large private roof terraces equipped with running water and gas barbeque connections. Green design elements as standard include individual high efficiency gas furnaces and central air conditioning, superior thermal and acoustical insulation, hot water on demand, gas ranges, LED and quartz halogen lighting.
Contemporary unit finishes, including natural gas fireplaces, engineered hardwood flooring or polished concrete floors, granite countertops, and stainless steel appliances are but a few of the many features that make Falling Brook a unique benchmark for luxury loft living.
Features:
8,000 Sq. Ft Green Roof will help retain storm water and alleviate strain placed on city storm sewers, increase insulation capacity of the building reducing utility costs from cooling and heating, locally clean air of CO2, and help reverse urban heat island effect


Falling Brook is a uniquely designed and situated project with 42 terraced loft units cascading north and south to take full advantage of site topography and lake and park views. Extensive use of glass, light filled volumes of space, natural stone facings, strong horizontal design elements and landscaping integrated with built form combine elements of the West Coast Style and Prairie School to create an architectural statement uniquely suited to its site and neighbourhood context


Low E, double paned glazing system increase insulation value in windows, reducing heating/cooling loads.


Individually controlled high efficiency condenser boiler furnaces with heat recovery, reaching up to 91% efficiency.


Instant hot water units eliminating the need to for inefficient hot water tanks.


Building hydro is being provided by Bull Frog (a certified green energy provider). Bull Frog uses wind and low impact hydro electric power.


Common element lighting is accommodated with ultra low consumption LED fixtures


Construction, demolition and land clearing debris will be collected, segregated and recycled or diverted from landfill.


Local, recycled and renewable resources being used to the maximum possible extent


Low VOC paints, carpets and adhesives used throughout


Individually metered utilities with real time monitoring of energy consumption.


A variety of passive design features incorporated to minimize energy consumption, such as abundant natural day lighting, operating windows and insulation well in excess of code requirements.


Building development density has been designed to fit with the city's urban intensification program in an effort to reduce urban sprawl.


The building has been designed within close proximity to public transit and will feature a large bike room at grade to encourage the use of alternative means of transportation.